Understanding Swivel Wheel Locks vs. Directional Wheel Locks
When ordering wheels, it is good to pay attention to the type of wheel locks available for a product.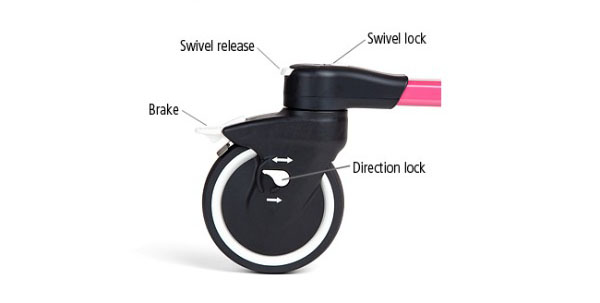 ---
Swivel Wheel Locks
When these locks are engaged, they prevent the wheels from turning to the right or left. This makes the walker, gait trainer, wheelchair or stroller only roll in a straight line. These types of locks are typically used when a person is first using a product. It eliminates the need to steer the product since the product will only abe able to go in a straight line. Once the person is comfortable in their new product, the swivel wheel locks can be disengaged to add the next level of challenge.
Directional Wheel Locks
The directional wheel locks are typically used in the special needs market to prevent a walker or gait trainer from rolling backwards. When people are first learning to use a new product, this is another way to eliminate an area of movement that they would otherwise have to control. This allows the user to concentrate on moving forward.
Dual Wheel Locks
These wheels have the capability to both prevent swiveling of the wheels as well as prevent the product from moving backwards.
Have questions? We're here to help! Call us at 1-800-371-2778.
Best regards,