Innovative seating solutions are the name of the game at Special Tomato. Two products recently introduced, the Out & About Seat (OAS) and the Recliner Support System (RSS) at a glance look similar. But a closer look will reveal that despite similar aesthetics, the people these products serve and the places they are designed to be used are quite different. But, as with all Special Tomato products, at the heart of both products is accessibility and inclusion. Accessibility to regular chairs found in people's homes and in the community that usually would not be an option for people with special needs because they require more postural support than the chair can offer. Accessibility to seating that includes people with special needs in conversation circles, dining arrangements, and "chilling out" with family and friends. Support systems that allow people with special needs to leave their rigidly supportive wheelchairs to access dining room chairs, comfy recliners, seating at entertainment venues, and much more. It's about time!
Let's start by looking at the similarities between the OAS and the RSS. Both have:
Strapping systems with easy side release buckles to securely attach the product to available ordinary chairs. This includes a Seat Bight Securement Strap that ensures the product stays firmly in place at the intersection between the chair's seat and back. This is especially important for the RSS.
Padded Attachment Straps to protect furniture.
Easy wipe clean and machine washable Base Fabric.
3-Point Adjustable Pelvic Harness to maintain proper position of the pelvis and hips. Single quick release button with safety mechanism that unlocks both sides of the pelvic harness simultaneously for quick and easy access to the occupant. Cam locks that prevent the waist straps from loosening.
5-Point Adjustable Chest Harness to maintain proper position of the trunk.
Height Adjustable Headrest to promote midline head position.
Customizable contoured support available as an accessory. Special Tomato Soft-Touch Liner Seat and Back Cushions are compatible with both products. These contoured seat and back cushions enhance lateral (side) support and improve comfort. A new Soft-Touch Liner Hip-Flex® Seat has been specifically designed and shaped for the RSS with a "living hinge" to comfortably move with and support the body as it reclines.
Completely Portable. The OAS folds into a backpack for hands free transport. The RSS folds and clips like a suit bag with handle. It can be hung on a standard coat hook or the back of a closet door.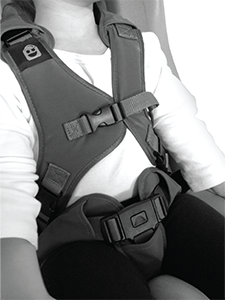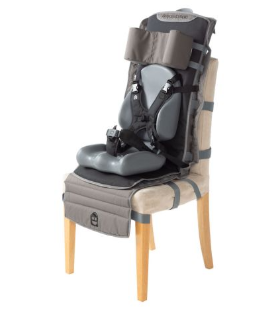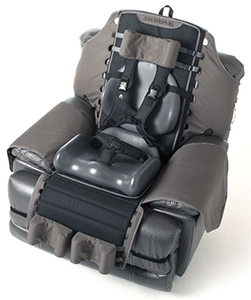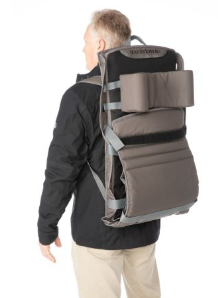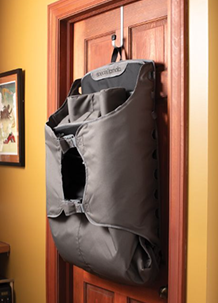 These features cause the OAS and the RSS to bear a resemblance to one another. Ultimately, however, they serve very different needs.
The OAS is appropriate for individuals with mild to moderate postural support needs as they sit in an upright position. The OAS can be used for toddlers through individuals weighing 90 lbs. (40kg) and can be secured to most standard stable chairs with a minimum seat back height of 14 in. (35.6cm).
The RSS is appropriate for individuals with moderate to significant physical involvement. Individuals who would have a difficult time maintaining a well aligned posture even with the help of gravity in a reclined position. The RSS is appropriate for preschool age children through adults 35"-74" (90cm – 188cm) and is designed to be compatible with most recliner brands. It is also compatible with most Hospital Geriatric Recliners commonly referred to as Geri Chairs.
Because the RSS is designed for individuals with a greater need for postural support, it includes leg supports with height and lateral (side to side) adjustability to cradle lower extremities in neutral alignment and discourage hyper extension of the knees.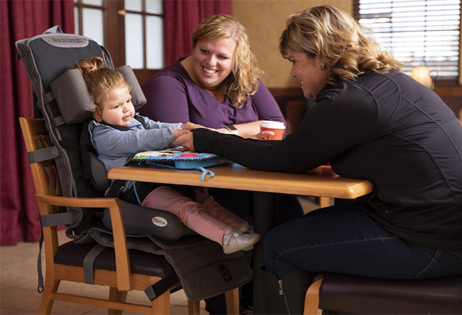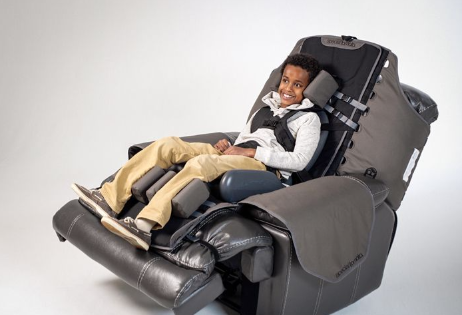 Accessibility and Inclusion: words that are music to your ears if you are a person with special needs or if you care for a person with special needs. These two products will bring more freedom as you consider appropriate seating options.