Living With...Rett Syndrome
Brooklyn is a 6 year-old girl. Just after she turned two, Brooklyn was diagnosed with Rett Syndrome. Brooklyn's family likes to say that "she has Rett Syndrome, it does not have her."
Brooklyn is in First Grade and loves to read. Her other favorite thing to do is riding horses. Brooklyn goes to a therapeutic horseback riding program every week. She gets to ride "Uno" or "Gus" each week. The riding helps her build her core strength and balance.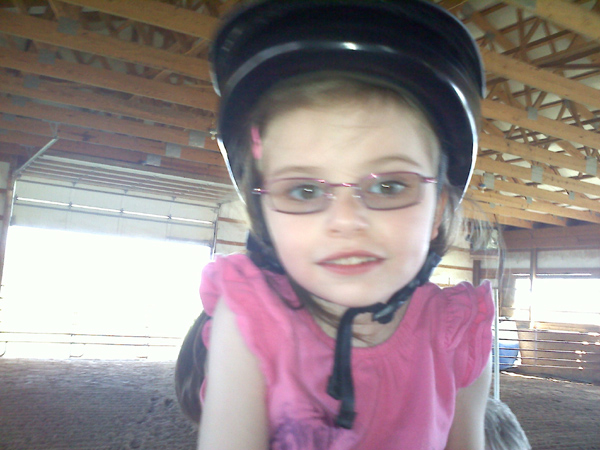 Even though Brooklyn is unable to "talk" with words or use her hands for sign language, she has found other ways to express herself. Her Mom says that she "speaks with her eyes". Brooklyn is also able to use multiple types of communication boards to express her wants and needs.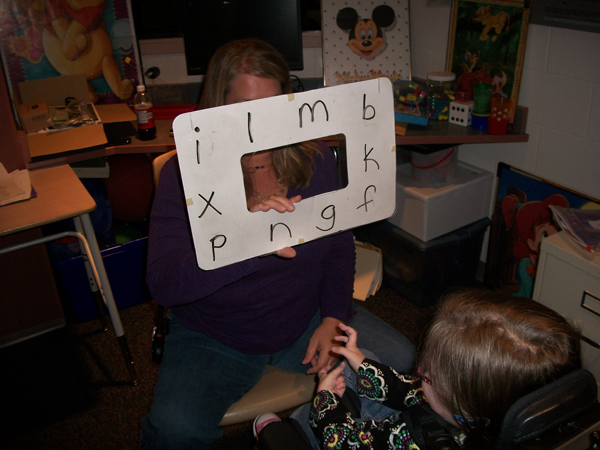 Brooklyn is a very social girl and loves interacting with those around her. One piece of equipment that helps her achieve that is her "high/low chair". She uses one at home and at school. If her friends are standing around talking, her seat can be positioned at the "high" level to be eye to eye with them. And if they are sitting on the floor listening to music or playing games, Brooklyn's seat can be placed at the "low" level as well. It is also great positioning for her at the table at home. Brooklyn utilizes a stander to build strength in her muscles and provide weight bearing for her bones. Some other equipment that helps her be more independent each day are her bath chair, her adaptive bicycle and her swing too.
Brookyn's Mom gives credit to so many people that are in Brooklyn's life for helping her achieve all that she does: from grandparents, to aunts, uncles and cousins, to people at school, church and in the community, to college girls that "hang out" with Brooklyn, to other girls with Rett Syndrome and their families. The quote "it takes a village to raise a child" rings very true for Brooklyn and her family.
>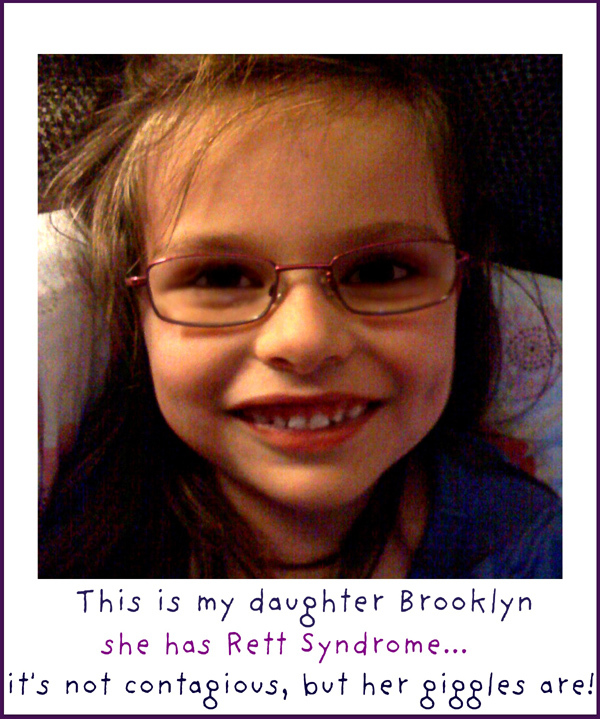 When Brooklyn's Mom first received the news of her diagnosis, she felt devastated and mourned the daughter she had. Brooklyn's ability to walk, stand crawl, speak and feed herself was slipping away. The mourning didn't last long though. Soon, her Mom was researching Rett Syndrome and found "the amazing organization Girl Power 2 Cure, the fight to be Brooklyn's voice started and continues today. Part of the fight was "rearranging" life so that Brooklyn was an integral part of the family.
When we asked Brooklyn's Mom what she wanted people to know about her daughter, this is what she said:
"Brooklyn is just like any other six year old girl…..she loves her friends at school, her family, reading books, listening to music, pretty clothes and shoes…. It is just that she can't walk, talk, or use her hands like most little girls, but she can hear you, she understands you, she is smart! She is trapped in her body unable to communicate her needs, wants, and dreams with the world – that is unless you are willing to really "listen" which means watching her eyes. If you are willing to take the time, she will tell you SO much! Despite her disabilities she has a smile that is bright as the sun and giggles that are truly contagious.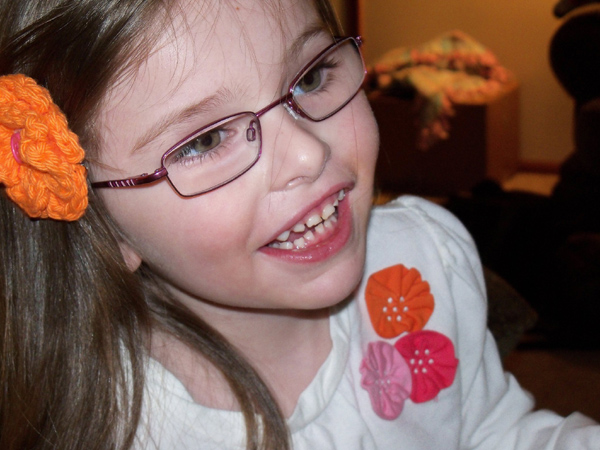 I have the honor of seeing lives change; Brooklyn has impacted so many people in her six years. Daily she struggles to move on her own, but she has shown me that it is possible to move mountains. She cannot speak, yet she has taught me more about courage, patience, and unconditional love than I ever thought possible. Actually, I am doubly blessed; my two-year old son, Boston, has Down syndrome. They are the loves of my life and thanks to them I laugh, live, and love more freely!" To read more about Brooklyn and her family, visit: