Living With...Guillain-Barré syndrome (AMAN type)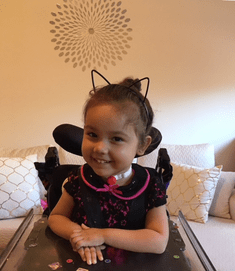 My name is Skyleen and I am 3 years old. I was diagnosed with Guillain-Barré syndrome (AMAN type) in 2014. The challenges & obstacles I face is having a severe physical disability that has limited me from everyday things such as playing with other children, eating, bathing, walking, crawling, standing, and sitting up unsupported. I have no function of my lower body & need to change positions from laying down to sitting down all day.
I have trouble eating and breathing on my own & as result I have a g-tube /tracheotomy & now only ventilator dependent at night. I need physical and occupational therapy every day to help with stiffening and to gain strength. I also need to wear braces for my back & feet that help me with my sitting & my foot drop.
Samantha says, "I've had to adjust to this new life and that meant giving up on my old normal to discover one that I never knew I was capable of. I dedicate myself to my daughter selflessly and am proud of myself for remaining strong throughout this ordeal. Through my love & strength, she will overcome this. The most rewarding part is being able to go through this journey together because I have learned how to take care of her in our own way that works for us. It makes me proud to see her becoming the individual she was always meant to be. She's still so happy, so fierce, super smart, so comical, all despite how much pain she has been through. It doesn't define her. She's one tough cookie who inspires me & I'm so proud that's my kid!"
Skyleen's Family & Friends Helped Her Achieve Her Kiddie Pool Goal In Just ONE WEEK!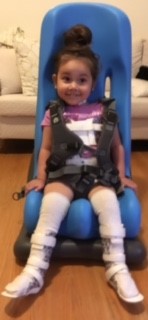 Skyleen's family & friends raised enough money to get Skyleen her own Special Tomato Floor Sitter in JUST ONE WEEK. We asked Skyleen's Mom, Samantha, about her experience with Kiddie Pool:
How quickly was Skyleen's goal reached?
Skyleen reached her goal in a week.
How did you share Skyleen's Kiddie Pool Page with family and friends?
I first texted everyone and said if you would like to get Skyleen a gift for Christmas or her birthday you can donate on her page instead of a toy. I then I forwarded her page link and I couldn't believe how quickly everyone donated. They all loved that a program like this exists and how I was able to tell a little bit about her story. It was emotional.
What was the easiest part of the Kiddie Pool process?
The easiest part was the process to make a donation. The page was right there with her story. After the goal was met, ordering the items was easy, delivery was faster than expected and I loved how I was updated throughout the process with who donated and the amount.
What was the hardest part of the Kiddie Pool process?
The hardest part was writing her story. It was very emotional for me and the first time I ever wrote about her situation.
What would you tell other families that are considering starting a Kiddie Pool?
Go for it because you will have a great experience & being able to tell your child's story. It will make your family and friends feel good that they were able to make a difference in your child's life and make your heart smile!