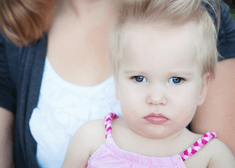 Hi! My name is Harper and I am 2 years old. My family often times calls me Harperpotamus. I am well cared for by supportive family and loved by many friends. My big sister Lily is my world! I love her oh so very much and desperately wish I could tell her that. I know I'm not the sister she thought she would have, but I hope she sees my love for her when she looks into my eyes!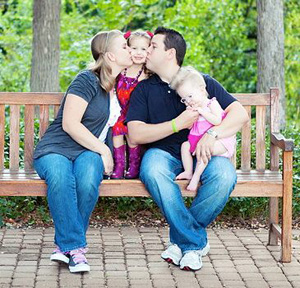 I have CDKL5, a rare life threatening, genetic disorder, which results in early onset of intense seizures, sensory issues, gastrointestinal difficulties, visual impairment, and possible scoliosis, along with severely delayed mental and physical developmental growth. There are currently fewer than 500 cases worldwide. Most children with CDKL5 depend on the care of others to help them eat, communicate and for themselves. Scientists and doctors currently do not know the full spectrum of this disorder.
I am involved with an extensive amount of therapies. The therapies include: Anat Baniel Method, Aquatic Therapy, Vision Therapy, Orientation and Mobility Therapy, Yoga Therapy, Playwisely and Hippotherapy. I love beads, instrumental music and toys with lights.
All of my therapy and transportation requires some sort of adaptive equipment in order for me to participate. My equipment helps me function better in my therapy sessions, aids in the comfort of my transportation and helps me to be more relaxed when at home "playing" with my family. Without my adaptive equipment I would spend the majority of my life on the floor staring at the ceiling if I wasn't being held.
I am a big swimmer just like my sister during aqua therapy sessions. I feel much freer in the water, especially now that I am bigger. It is easier for me to move my body around and practice standing upright when I do not have to fight gravity so much. This therapy requires adaptive flotation devices and weights.
I feel like such a big girl when I ride my pony named Pocket during hippotherapy. My sister was nervous getting on one just to take a picture. But not me, I ride Pocket every week and he helps me gain a better since of balance and body control. Hippotherapy requires splints, neck support and a vest for trunk support while riding.
Vision and Playwisely are therapies that work on the mental mapping of my brain. It's not as physically demanding but the mental concentration is just as exhausting to me. I require glasses and an appropriate supportive seat to participate in each of these.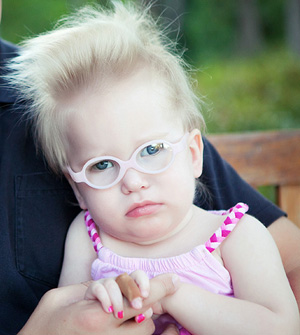 It is extremely important to me that people understand that I understand what you are saying but I have a very hard time expressing my feelings and thoughts. I may not smile or laugh much on the outside but I do still enjoy the interaction of play. I appreciate being spoken to like you would speak to any child. I require just a little more time to respond to you so please be patient with me.
I think every day that I can wake up and function, get a little stronger, learn a little more and retain that information despite my seizures is a huge accomplishment that I am proud of. It is my desire to inspire others by making hope real and being a testament to what hope is.
My big sister Lily is the love of my life! I adore and look up to her in every way. She is my best friend! Without my sister I wouldn't work as hard in therapy. I always exert the last bit of all my effort for Lily.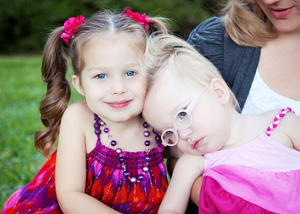 Now some questions and answers from Penny, Harper's Mom:
When did you first know that Harper had a disability?
"In hindsight, it was first felt in utero during my last trimester of pregnancy when I felt extremely rhythmic movement but with no family history of epilepsy, it was the furthest thing from my mind. It was seen again the day she was born and I watched her stare so hard you didn't think she was mentally with you for about 30 seconds several times per day but because she was swaddled so tight and her muscles not that strong we didn't see any movement with the staring. Finally, at 2 weeks old when my Aunt and Uncle came to visit our new baby girl and held her all day long they pointed out the rhythmic movement at which point knew without a doubt it was a seizure. But I had no idea at that moment just how much our lives would change."

What was your reaction?
"Initially, it was devastation of the unknown! I cried every night before going to sleep and every morning in the shower. I prayed that if God was not going to heal her that he would take her back instead of letting her continue to suffer. It is very challenging watching your baby be "electrocuted" from an unseen source that cannot be turned off and I could not bear to see her suffer in pain. Now I know she is an exceptional little girl who has much to share with the world and it is our job to help her be able to do so."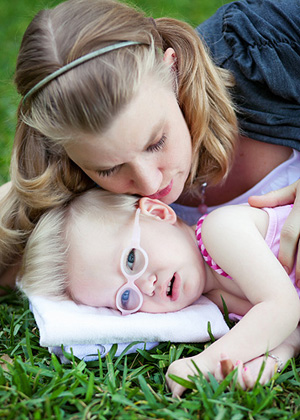 How have you changed your life to incorporate Harper?
"I think the better question is how have we changed life to incorporate Harper's big sister, Lily. We did not want Lily to feel second because of Harper's disability. Harper was going to get the care she needed and we traveled the US to make sure that happened. We went through great lengths to make sure Lily was included in caring for Harper without her feeling responsible for having to care for her. And we made sure that she received adequate time with each of us individually, as well as family time together. The two sisters have bonded over Yoga and Playwisely, allowing Lily the opportunity to learn how to safely play with and move her sister."

What is the most rewarding part of having a child with special needs?
>
"Having a child with special needs has taught us to be more patient and pay attention to details. We have to allow Harper the time she needs to respond to her surroundings and pay attention to the detail of her communication with those around her. This circumstance has also made us a more humble family. We recognize this situation is bigger than we are and requires love and support from everyone we know and don't know. We have had to open ourselves up and share our personal story in order to help Harper."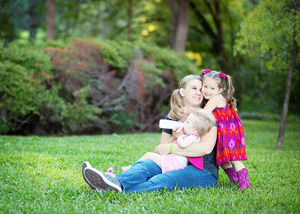 A closer look at the sibling perspective (at 4 years old)…
"One day on the way home from our Mommy-Lily time an unexpected conversation took place that I was not fully prepared for but should have been.

Lily: Out of know where comes the question, "Why is Harper sick?"
Penny: Shocked and unsure where this conversation is headed, "I don't know baby."
Lily: "Well, you need to fix her!" with an angry look on her face.
Penny: "Baby we are trying very hard to make her better."
Lily: In a very demanding tone with an assertive look on her face, "Then why is she not better? Why is she still sick? Why does she still have seizures? You need to fix her!"
Penny: Swallowing back the tears, "Baby, we are doing everything we can, let's go home and see Harper and Grandma, okay."
Lily: "Okay!"
The remaining ride home was silent and the longest 5-minute ride I think I have ever been on, as I look in my mirror and see Lily staring out the window.
Harper responds so well to Lily that we constantly try to encourage interaction. I know Lily loves Harper but it is difficult for them to play the way Lily sees other siblings interact. Harper is now just over 2 years old but to Lily she is still just a baby. It is difficult for us as parents to cope with the difference between the two at certain ages. It is also challenging to explain to Lily where she was at that age when she sees Harper is clearly not near accomplishing that ability."