Understanding Support Points in Sitting
Children with special needs often require support to sit with a well aligned posture. Providing necessary support in sitting translates into energy that can be used to focus attention, improve upper extremity functional skills and participate in social exchanges. Whether a child requires complete support for sitting or adjustable/ decreasing support while learning core control for upright postures, a balanced approach to providing assistance is best. Though necessary, postural support can be restrictive. Too much support asks too little of the child who is working towards greater strength and independence. Too little support will cause a child to have difficulty maintaining their alignment, quickly limiting their ability to function in the seated position.
Understanding the key points of support in sitting can go a long way towards achieving an optimal sitting position. Proper positioning of the pelvis is the foundation. Securing this position is accomplished using a seat belt/ hip belt. For some children this may be all that is necessary to prevent "slumping" (hips sliding forward on the seat while back rounds and head falls forward). For others, further core support will be required for the trunk. This can be accomplished using a shoulder strap harness or if more support is needed, a full trunk vest. These supports help to keep the trunk in midline with shoulders back which creates the stable foundation necessary for head control. If firm support is required to prevent the trunk from leaning towards one side, that can be provided with lateral (side) supports. When a child is not able to maintain their head in an upright, forward facing midline position, Head support is used .
Once necessary postural support of the pelvis, trunk and head is established, attention should be given to the legs and feet. When feet are secured in a foot flat, weight bearing position they can effectively aide in maintaining optimal position of the pelvis. When sitting in a chair, the child's feet should be flat on the floor. If a child is in a therapeutic seating system that includes a footrest, that is where the child's feet should rest and be stabilized. For some children, presence of the footrest will be enough. For others, they may require straps to help them to keep their feet in contact with the footrest. Angle adjustable footplates are available to accommodate limited range of motion in ankles and feet. Independently adjustable footrests can accommodate a leg length discrepancy. Other lower extremity positioning aides such as hip guides, provide lateral support for the thighs necessary when a child's legs splay (angle out to the side), a common problem observed in children with low muscle tone. An abductor, a firm support positioned between the legs, helps to discourage legs from crossing midline, a common problem observed in children with high muscle tone in their hip muscles.
---
Provide the least amount of assistance necessary at key points of support to facilitate maximum function.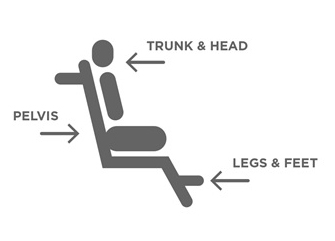 PELVIS - This is the cornerstone for sitting. The pelvis must be aligned properly to allow the greatest amount of functional activity.
TRUNK & HEAD - The general goal is to keep the head and trunk upright and centered on the seat at midline
LEGS & FEET - Supporting the legs and feet to keep the pelvis in the optimal position is essential to help keep the head and trunk in an upright position.
---
Supporting a well-aligned seated posture ultimately results in improving a child's ability to take in and respond to the world around them. When the child is comfortable and not struggling to remain upright, their energy can be used to observe, engage and interact with their environment, nurturing their development and promoting their wellbeing. Providing the perfect balance of support, freedom and comfort allows children to be relaxed and attentive and assists them in reaching their full potential.
Our therapists are available to answer any questions you may have. Give us a call at 1-800-371-2778!