Features & Benefits: Special Tomato Hi-Low MPS
Special Needs/ Adaptive Seating Systems that can quickly be adjusted in height from floor to table provide all-in-one solutions for children, parents, therapists and teachers. These height adjustable seats are referred to as High-Low (also spelled Hi-Lo) Seats and
Understanding Benefits of Hi-Low Seating
can make your life easier.
Decrease amount of adaptive equipment needed (including expense!)
Change seat height with child in the seat
Move seat from place to place at home and in the classroom
Decrease number of daily transfers
Provide perfect seat height for transfer training between sitting and standing
Provide pressure relief with tilt-in-space function
The Special Tomato® Hi-Low MPS provides all of these benefits and more including:
Modular custom fit contoured cushion support
Ergonomic Harness Design
30-degree Hip-Flex® Adjustment for optimal pelvic positioning
Ergonomic Push Handle – comfortable grip for all heights
Tool Free Adjustments
---
Let's take a more detailed look!
The MPS Shell offers a firm and stable frame for the 3 contoured cushions that come standard with the seat (Headrest, Back and Seat).
Footrest with Foot Straps (Hook and Loop Closure) is height, depth and angle adjustable. It is also easily removed. Stabilization of a well aligned seated posture includes stabilization of lower extremity position with feet resting comfortably on a supportive surface. The adjustable Footrest ensures proper positioning of the legs no matter what height the seat is being used at.
Hi-Low Seat Height Function is pedal activated and can be operated with the user in the chair. The Hi-Low feature allows the child to have the postural support that is needed in sitting from floor to table heights and anywhere in between placing him/her at optimal level for upper extremity function in relation to work surface and optimal level to maintain visual attention and attention to task.
Tilt-in-Space Lever is located under the seat back and can also be operated with the child in the seat. The lever moves the seat from 30 degrees posterior tilt to 5 degrees anterior tilt. With posterior tilt, gravity will encourage the child to lie back into the support of the seat for rest and pressure relief, but will not alter the optimal hip angle. When the child is sitting upright to engage in tabletop activities, the seat can be tilted forward to encourage activation of core muscles for independent management of head and trunk control while engaging arms in play, turning pages of a book, coloring and writing. The seat can also be tilted forward during sit to stand transfer training.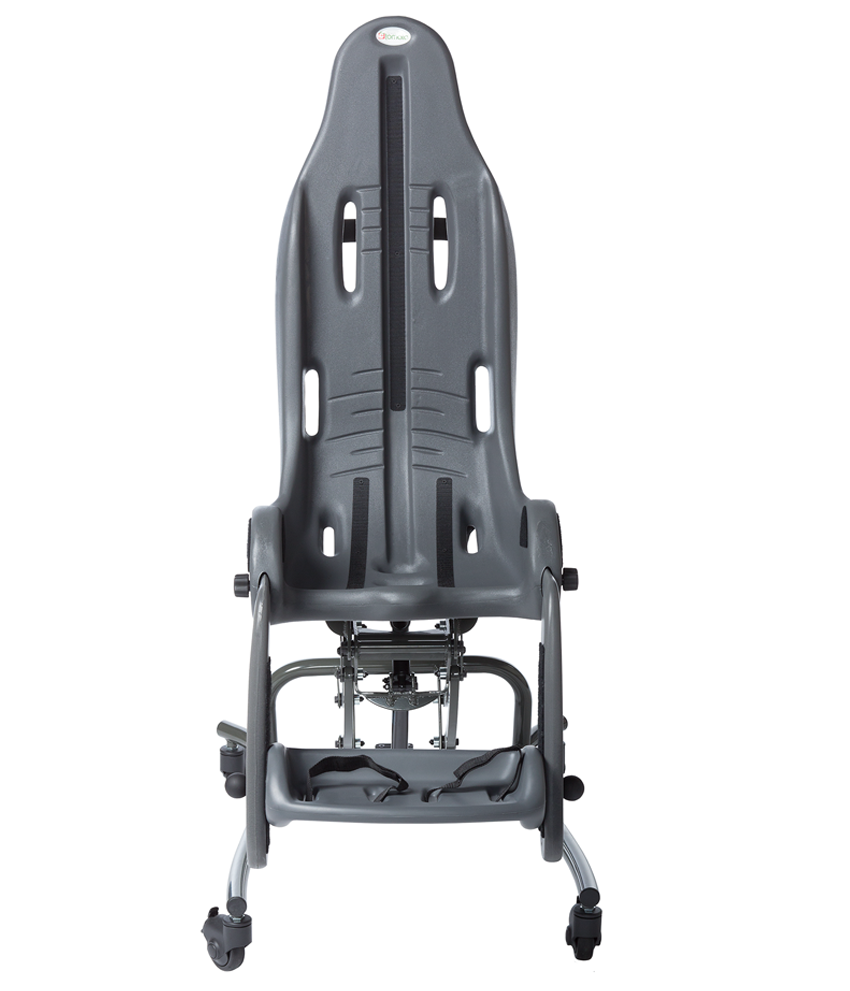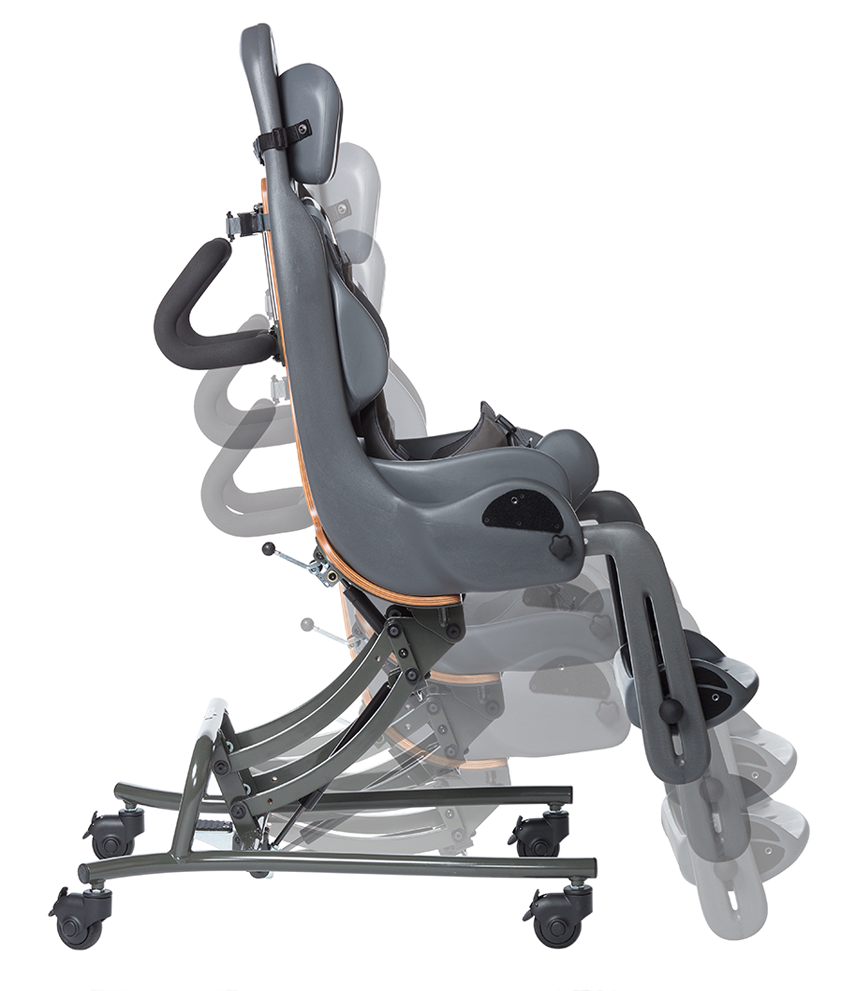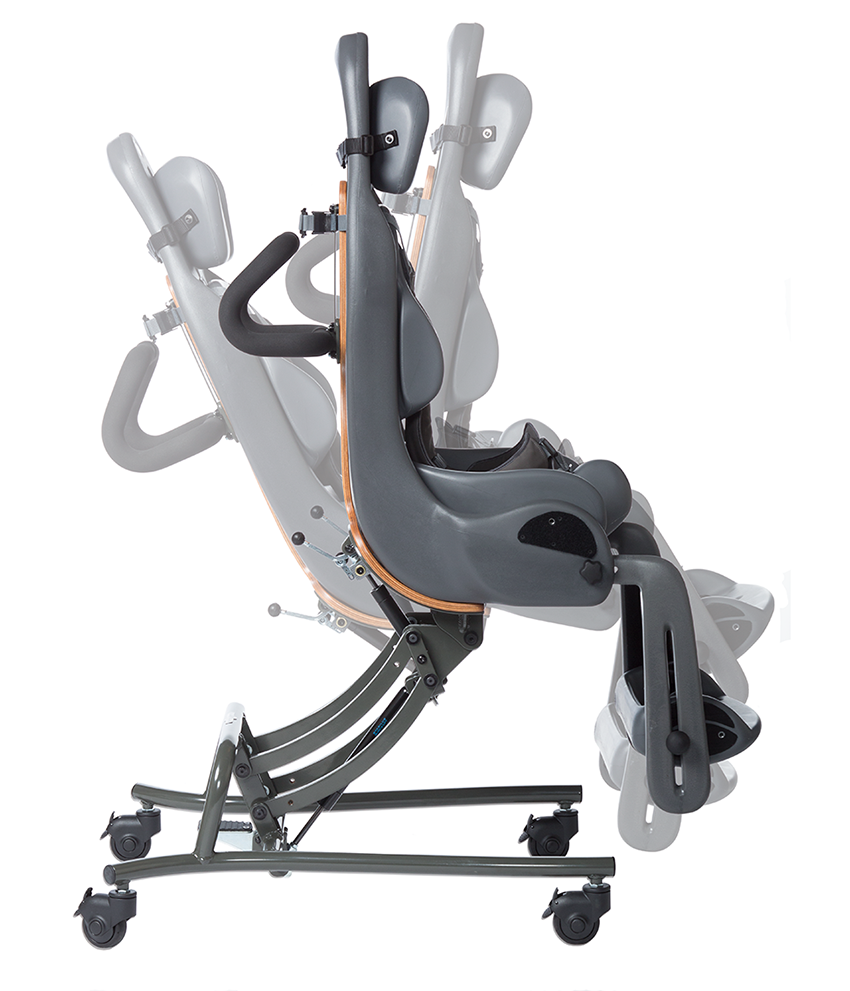 ---
MPS Cushions, like all Special Tomato cushions, are made from Soft Touch® material. Formulated from a proprietary blend, Soft-Touch cushions are comfortably soft while offering firm support. They are breathable and easily wiped clean. Cushions are puncture-proof, peel- and tear-resistant and waterproof. They are also latex-free. The Soft-Touch inner core is formulated to allow children to sit comfortably for longer periods of time.
Choose a Size/ Style - Cushions offer contoured postural support to ensure a well-aligned midline position. The ability to choose the style of the headrest and the size of the seat and back cushions ensure the fit is as snug or loose as is therapeutically appropriate. Individuals with poor postural control that rely heavily on postural supports to maintain alignment will benefit from cushions that fit snuggly. Individuals who have or are progressively gaining independent postural control will benefit from more loosely fitting support, so they are given the opportunity to activate their core muscles to maintain postural alignment and shift their weight. This allows them room to do the "work" of sitting.
Easy to Adjust - The MPS offers easy adjustment for placement of the cushions using hook and loop attachment on the shell's track system. The Headrest Cushion and Back Cushion are simply moved up to accommodate growth in height. Cost effective cushion replacements allow for accommodation of increases in width. Multiple cushion sizes are also ideal for individuals who are not typically proportioned. Cushion changes needed to accommodate other physical and functional changes for example improved head control are also simple and cost effective. Replace one cushion or replace them all, whatever is needed.
---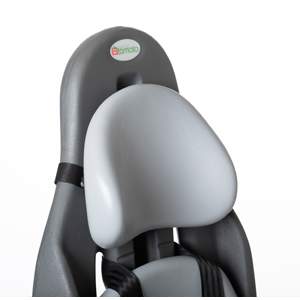 MBH (Basic) - is designed for individuals with good head control. It offers cushioning behind the head for comfort and safety and some contouring with slightly raised edges to encourage a midline position of the head.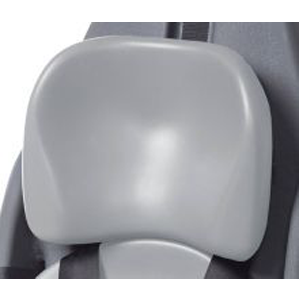 MHS (Standard) - is a contoured headrest with an occipital ridge that creates a bowl-shaped support for the head. Individuals who tend to hyperextend their necks due to low muscle tone and weakness or hyperextend their necks due to increased extensor hypertonicity will have the support they need to maintain their head in neutral alignment (neck elongated with a slight chin tuck).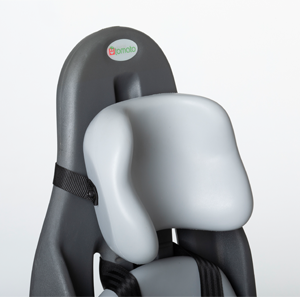 MBL with laterals - offers a slight occipital ridge to support head position in the sagittal plane with contoured lateral support to maintain the head in neutral rotation and discourage tilting of the head to the left or right. The lateral support provided is less than that provided by the MHL with laterals.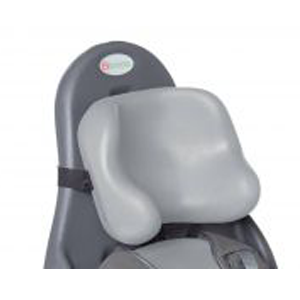 MHL with laterals - offers the greatest level of head support with its bowl-shaped cradling of the occiput as well as contoured lateral support. Lateral Supports are molded into the headrest at the mandibular (jaw) level NOT eye level. This ensures that the user's visual field (peripheral vision) is NOT limited by the headrest. This headrest is designed for individuals who have difficulty maintaining neutral rotation (individuals who turn their head and have difficulty keeping eyes facing forward) or for individuals who tend to tilt their head to the right or left.
---
Contoured Seat and Back Cushions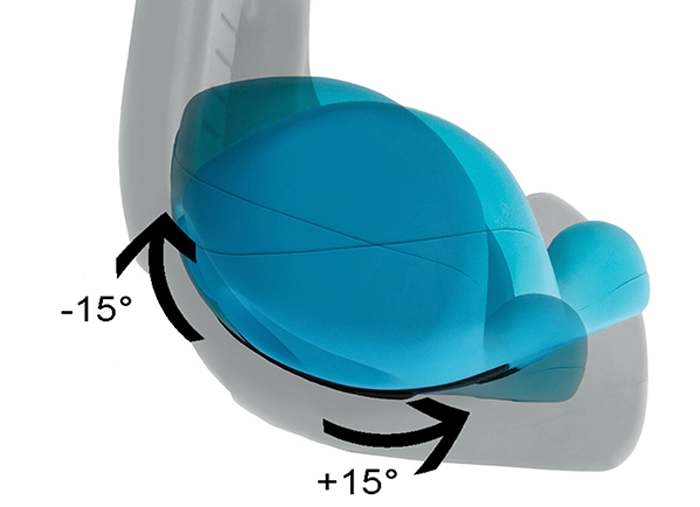 The Contoured Seat Cushion with Hip-Flex™ Adjustment is designed to allow the ischial tuberosities (ITs) commonly called "sit bones" to comfortably sink into the seat thereby creating the stable base required for the foundation of the seated posture. The seat cushion is also contoured to provide medial and lateral support for the thighs to keep hips in a well aligned position. Hip-Flex™ Adjustment allows the seat cushion to be easily pivoted 30 degrees (15 degrees of hip flexion or extension from customary 90 degrees of hip flexion in sitting) to ensure pelvic positioning, the foundation of the seated posture, is optimal.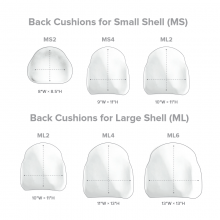 The Contoured Back Cushion supports the natural curvature of the spine. Lateral trunk supports are molded into the cushion and help the user to maintain a well aligned midline upright position.
---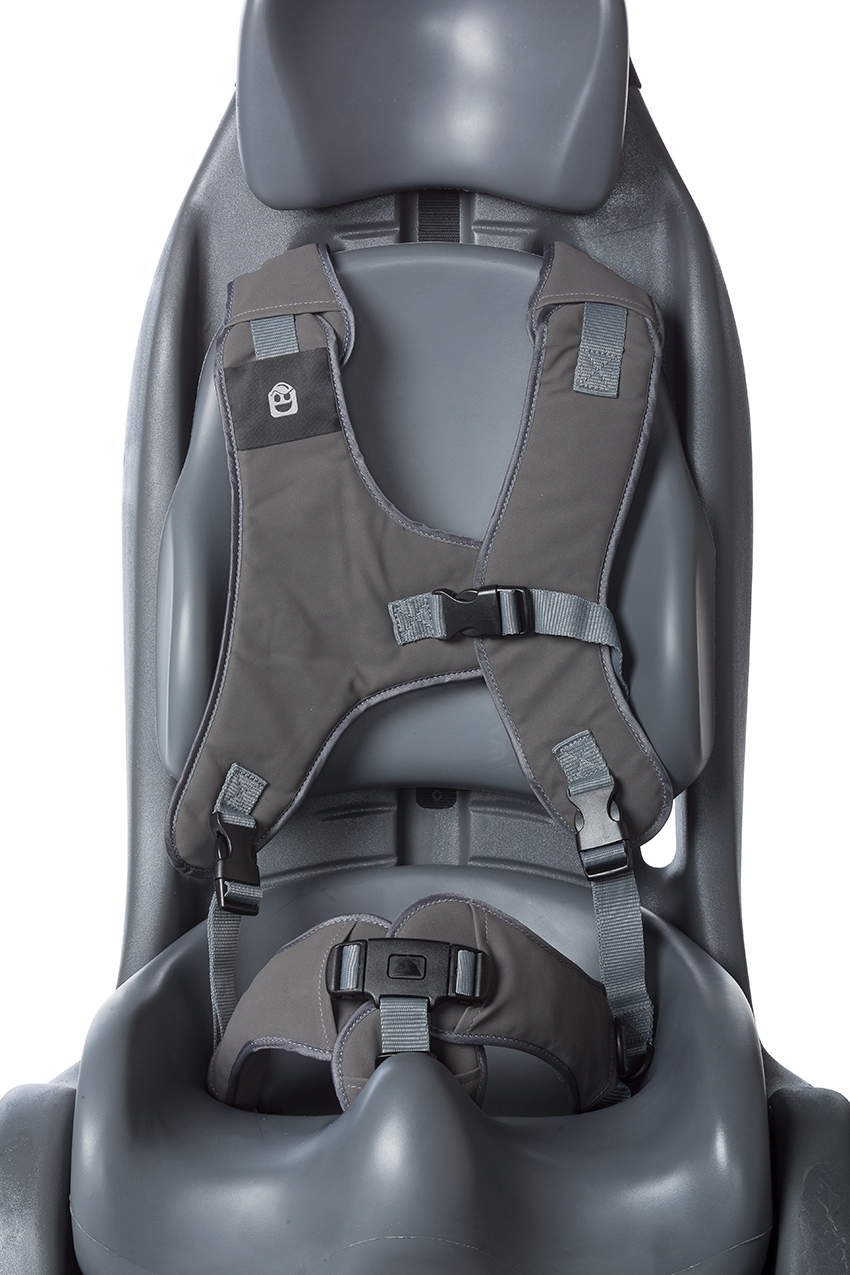 Adjustable 5-Point Trunk Positioning Harness can be adjusted to fit the user as she/he grows. Shoulder straps discourage rounding of the spine by keeping shoulders back in the seat. Bottom pull straps (separate/ independent of Pelvic Positioning Harness) and center side release clasp ensure the ability of the harness to maintain an upright midline posture of the trunk. All straps are wide and padded for pressure distribution and comfort.
Adjustable 3-Point Pelvis Positioning Harness - The straps across hips along with the crotch strap can be tightened to prevent sliding forward in the seat. Adjustable strapping can be loosened when less support is required, and the user is able assume more sustained control over postural muscles. All straps are wide and padded for pressure distribution and comfort.
*Easy HARNESS CARE: • Place harness in a mesh bag and machine wash with cold water, then air dry. Harness pads can be removed, hand washed at 100°F (38°C). Air-dry.
---
MPS Tray with Tray Risers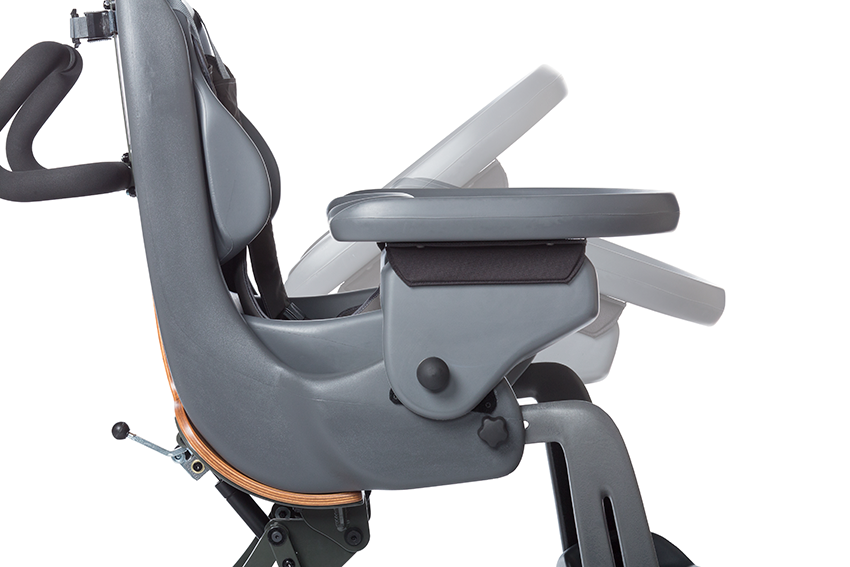 The Optional Height, Depth and Angle (60 degrees) Adjustable Special Tomato MPS Tray offers a suitable surface for upper extremity weight bearing to support and assist with developing head, neck, and trunk control in sitting. The tray also provides an optimally positioned work surface to maximize upper extremity function for developing fine motor skills that include activities of daily living such as self-feeding. The tray positioned at an optimal height and angle is also essential when a support surface for materials that require visual attention is needed and eye hand coordination skills are addressed.
---
The quality, versatility, and convenience of the Special Tomato MPS Hi-Low mobile special needs seating system cannot be over stated. A comfortable seat at the perfect height with customized postural support and ergonomic harness. An all-in-one solution to special needs seating.