Living With...Athetoid Cerebral Palsy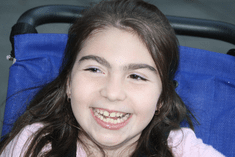 "Hello! My name is Madison and I am 11 years old! You should know that I am a typical pre-teen girl with the same thoughts and feelings, I just have different challenges. I love Just Bieber, ICarly and dancing! I love to color, swim, play school and go to the mall with my friends!"
Madison's Mom, Dena, was pregnant with identical twins. Tragically, Madison's twin sister, Emma Marie, was lost at 29 weeks into the pregnancy. Madison continued to fight and her Mom was so grateful to hold Madison in her arms. At one year, Madison had low muscle tone (hypotonia). When Madison was 22 months old, an MRI revealed some brain scarring and she was diagnosed with Athetoid Cerebral Palsy.
Dena described being in shock and then crying tears of uncertainty for Madison's future. Thankfully, Dena's degree is in Elementary Education and Early Childhood. So she was already equipped with the understanding of child development and how to help children learn in different ways. Instead of teaching in a school, Dena has focused on helping her children at home and working part-time while they are in school.
Madison utilizes many different pieces of Adaptive Equipment throughout her day. Each piece of equipment helps her to be more independent! "I can sit better in my Leckey chair or Tumble Forms, I can eat better because I am more stable in my Kaye Kinder Chair, I get use my gait trainer to stand at the computer table and I can use my stander to help make my leg muscles stronger. My pediatric magician stander has a tray so I can color or do my doll's hair while I am standing."
Despite the challenges that go along with travelling as a family when one child requires a lot of adaptive equipment, Madison's family was able to go to Disney this year! They also love going to the beach as a family.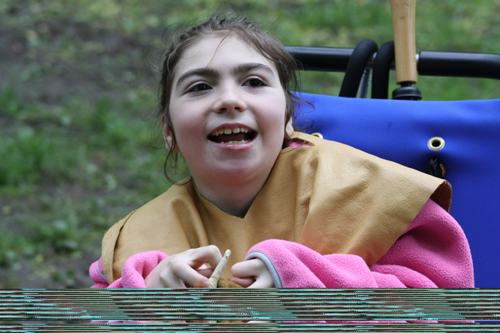 Two special people have made a big difference in Madison's life. One is Mrs. Booth, her one-on-one aide at school. "She is by my side most of the day. She takes me from class to class. She gets on the scooters with me in gym class, dances with me in music, and dresses up for halloween in a costume that compliments my costume. Last year, I was Hannah Montana and Mrs. Booth dresses up as Miley Cyrus!!" The second person is Madison's Physical Therapist, Jane. She has been Maddie's Physical Therapist since Maddie was only 14 months. That is about 10 of Maddie's 11 years of life. "She has become a part of our family."
Dena reflected on the most rewarding part of having a child with a disability. She recalled, "Madison called me 'mama' for the first time the day I came home from the hospital with my newborn son. It was one of the most prescious days of my life. I will never forget that feeling. Madison has the most amazing sense of humor. She makes me belly laugh every single day!!! She loves to dance and sing. She knows the words to the songs and she will belt them out for all to hear!!! She loves watching movies such as High School Musical, The Cinderella Story and the Cheetah Girls. She is so much fun!!! She is also a snuggle bunny! She will constantly wrap her arms around my neck and give me a big squeeze or she will lean over and kiss my cheek when I least expect it. These are the most precious moments of my life."